Visit Freedom's Zone
Donate To Project Valour
Tuesday, October 06, 2009
A Pretty Problem With A Disturbing Answer
One of the things that has truly worried me about the current health care proposals is that theories that we can raise taxes to cover the proposal ignore other portions of the overall fiscal problem. All the current proposals seem to me to be the public financing form of Option ARM mortgages, because they look at proposals separately rather than looking at them as a percent of total financing.

I explained before that the method I use is for economic projections is based on figuring out what is not possible and extrapolating within the range of possibilities. And you can't raise revenue 2% devoted to one program without adjusting other taxation expectations, particularly not in an environment of declining wages and salaries.



Here, an explanation and a caveat, because the facts contained in this post are rather painful and everything is politicized these days

. My political position is currently that I can not vote either Republican or Democrat with a clear conscience. The Democratic leadership is and has been using bullshit numbers for years now, and the numbers are getting crazier instead of more realistic.
Further, segments of the more leftish portion of the Democratic party is veering into an old insanity in the attempt to dodge these numbers. See Ann Althouse' s reaction to the latest Michael Moore production. The Republican Congressional leadership has been ignoring the basic reality of what is happening to most people in the economy for years, and in doing so, has committed a grievous dereliction of public responsibility; they do not deserve to be in power. Bush tried hard to get them to deal with reality, and they refused with nearly one voice. In response, the public turned control of Congress over to the Democrats in 2006, and then the Democratic leadership committed the same grievous dereliction of public responsibility. I would like currently to be a Democratic voter, but until they get more realistic I cannot be. I believe that for historic reasons, only the Democrats can make the public accept unpleasant realities. However, if the Republicans were to turn and get real, I'd vote for them. If neither party wants to deal with reality, then I think we need a third party, and I also believe we are likely very near to creating one. I know I am not the only one thinking this way. These numbers are not political. They are just an attempt to figure out where we are and where we can realistically expect to go.

I am currently working on recasting the wage picture by using treasury receipt data. I do this over a range of two years, and normally I do it in the spring, but the recent changes have been so huge that to make any meaningful economic projections for the next year I have to refigure all of this. It's a lot of work.

I don't think most people realize how misleading the unemployment stats are in comparison to other recessions. There is a pronounced distortion arising from early retirements which presents a picture that is favorably biased. If it were not for the availability of early retirements and disability, U3 unemployment would be at least 1.9 million higher, which would give us an unemployment rate of around 11%. The availability of Social Security and Disability benefits does help to support total US incomes, but it comes at a high price in terms of tax receipt expectations.

Nor do most people understand just how immediate the Social Security and Medicare crisis is.

To give you an idea, here is some recent data using the August Monthly Treasury Receipts report.



First, understand that the WIET component of federal revenues is extremely high.


In September, WIET accounted for 125,216/172,133 = 72.7% of monthly receipts.
For the fiscal year ending in September, WIET accounted for 83.9% of total receipts.
In August, WIET accounted for 92.1% of monthly receipts, and fiscal year-to-date WIET accounted for 84.9% of total FYTD receipts. This is a recession year, and in recessions, the share of corporate taxes drops.
So for comparison purposes, let's also include the split for the fiscal year ending in September 2007 of 78.1%. That will give us an upper and lower bound. For a lower bound I am going to use 80%, because as the population ages you just have fewer workers and WIET cannot become much larger without huge individual percentage tax increases on workers, which would hurt the economy, driving down wages recursively and lowering total WIET.



Second, understand the split of WIET between income taxes, Social Security taxes, and Medicare taxes.


For this, you have to use the Monthly Treasury Statement to split revenues among the gross receipts. These statements are available at this website. Daily Treasury Statements here.

(People keep accusing me of lying when I produce these numbers, and I am getting very irked about it. Before you say I am lying, verify the numbers yourself. If you don't, then you are a delusional idiot and that is what my response will be. You don't have to like reality; you do have to deal with it.)


For August, gross WIET as reported in the DTS for Aug 31 was 126,389 million. Turning to the MTS for August (the last available), we see on page 5 that individual income taxes were 62,489 million and SS/Medicare was 63,569 million. Part of the difference is the extra 238 million in personal income tax that wasn't withheld, so subtract that from the 62,489 - 238 = 62,251. MTS total = 124,740. Thus, August WIET was approximately composed of 49.9% income tax and 50.1% FICA. For our purposes, we can just call it 50/50. There are other adjustments we can make, but this is close enough to understand why WIET is dropping so rapidly.

For comparison purposes for before the recession and the wave of early retirements, let us go back and do the same thing for August of 2007: (Links, MTS, DTS)
Gross WIET August 2007: 140,381
MTS PIT August 2007: 77,618 - 177
MTS M/SS Tax Aug 07: 63,908
MTS total adjusted: 141,349
Income tax ratio: 54.8%
FICA tax ratio: 45.2%



Implications for future receipts:


When people retire, they generally only pay income tax on about 15% of their Social Security. But they pay no Social Security or Medicare tax on their Social Security benefits, although they do pay a Medicare premium. Thus, if we are currently at a 50/50 split, for every retiree who swaps a 30K salary for a 20K SS check, we can expect income tax receipts to drop around 70-85%, and FICA taxes to drop 100%. This is why federal receipts from WIET can be expected to plummet as the wave of retirees occurs. It's been given a jump start by the wave of unemployment:

More than 2.6 million retired workers entered the Social Security system, up from 2.2 million in fiscal 2008. That's a much bigger increase than during past recessions.




...




The number of disabled workers receiving first-time benefits also soared to nearly 1 million, an increase of 100,000 over the previous year, according to Social Security Administration records.
Well, here the demographic composition of the population comes into play. We are, on net, much older than we were in previous recessions. Far more people are eligible.



Alert readers ask a sensible question:




Q:

Why, beastly blogger with unpleasant numbers, is the proportion of income tax to FICA falling when you just wrote that retirements cause FICA receipts to fall faster than personal income tax? See, YOU MUST BE LYING!



A:

The answer lies in the regressive nature of FICA taxation and the progressive nature of income taxation. What you are seeing is not just the impact of retirements, but a remarkable change in the distribution of incomes. Those with higher incomes are losing a lot of income.
Current income tax brackets: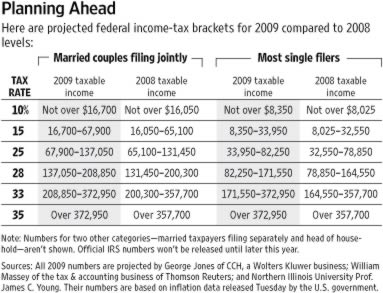 The Medicare tax is a flat 2.9% on all wages.
The Social Security tax is 12.4%, but is capped each year. See historical rate table. In 2009 the maximum wage on which Social Security is charged is $106,800. In 2007 it was $97,500.



We can use this difference and another level of detail in MTS on page 6 to figure out something about wage distributions:




August 09

:

HI (the 2.9% Medicare non-capped portion of FICA) for August was 13809. The August wages on which that was collected were 13,809 = 0.029(X). Using the algebra that Cohen believes has no application to daily life, we get 13809/0.029 = X or wages equal to 476,192 million or 476.2 billion.
OASDI (the 12.4% capped portion of FICA) for August 07 was 49,372. You need to know the wage cap for that year, which was 106,800. Wage caps from SSA. 49,372/0.124 = wages of 398,161. The difference between the two numbers is the amount of wages that had exceeded the cap, which is 78,031 million. Using the changing distribution month by month will give you a good feel for the distribution of these incomes and how they are changing over time. 78,031/476,192 = 16.4% of all incomes that exceeded 13K monthly (106,800/8).

Now for the reality check. Let's do

August 2007

:
HI (the 2.9% Medicare non-capped portion of FICA) for August was 14,121. The August wages on which that was collected were 14,121/0.029 = 486,931 million.
OASDI (capped) salaries. 49,379/0.124 = 398,217. For August 88,714 million of wages were earned by those who had already exceeded the 97,500 annual cap, and thus must have monthly wages exceeding 12K That is about 18.2% of all wages.

Note that over two years, salaries don't seem to be going anywhere. Except, ah, down. Believe it or not, in most recessions total wages continue to rise, albeit more slowly. Even last year, wages were rising. That is why PCE usually leads us out of recessions. Total incomes haven't fallen, and when things start to improve, consumer confidence rises, consumers start spending, and cue the "Happy Days Are Here Again" tape. This is one of the duration effects I have been mentioning that makes this recession a different animal than most post WWII recessions.

Since we are crying in our beer, the Beastly Blogger former known as M_O_M

(screen abbreviation BB?M_O_M)

might as well get this over with quickly:
Let's look now at

August 2008.

MTS file. Page 6. You've done this before.
HI receipts = 14,484.
OASDI receipts = 50,567
Wage cap = 102,000
14,484/0.029 = 499,448
50,567/0.124 = 407,798.
18.4% of wages had exceeded the cap and must have therefore have been earned by those with monthly salaries over (102,000/8) 12.75K.
It looks like nominal wages have dropped about 4.7% to 4.9% over the year (shadow wages don't show up, but have probably declined faster). They have also dropped from 2 years ago.



So, let's look at nominal August wages, FICA, income tax receipts

.


Nominal wages August:


09: 476,192 million
08: 499,448 million
07: 486,931 million.


Income Tax receipts August:


09: 62,489 million
08: 70,263 million
07: 77,618 millon


FICA tax receipts August (from page 5, nonadjusted)


09: 63,569
08: 65,440
07: 63,908

Income taxes, being progressive, drop a lot more from smaller changes in income than does FICA. Also this year's receipts are affected by the $400 tax credit.

Now we'll look at the trend in structural outlays. This information is Fiscal Year to Date through August each year:


Just benefit payments for SSI, Social Security and Disability:


09: 646,415
08: 599,187
07: 593,845


Total Centers for Medicare and Medicaid Services:


09: 886,002
08: 801,545
07: 783,236

We could cheerfully suggest that the trend in incomes will reverse itself as the economy improves, but we cannot suggest that the trend in Medicare/Medicaid/Social Security outlays will improve. It must rise as retirements rise.

We also cannot be too optimistic about nominal wages due to the first effect of retirements I mentioned. Looked at one way, the effect of Social Security is to support incomes. But from a taxation POV, it greatly reduces the tax base.

Given that we now expect unemployment to be very high going through 2010, we can't expect wage pressures to have that much of a contribution to increase the tax base.

The nastiest aspect of this is that we have little room to raise taxes, and any attempt to raise taxes on the higher income groups will have much less net effect than projections from a few years ago would indicate.



Real Wages for Higher Earners:


Another unpleasant reality is that real wages are dropping faster than nominal wages, and therefore real marginal tax rates are probably rising for most wage earners even as their real disposable incomes fall.

Take medical benefits. Over the last few years, most companies are reporting that they are passing on a share of medical insurance cost increases to their employees, as well as cutting benefit packages. Companies that did do 401K matches have mostly cut them, and many companies have terminated retirement/pension plans or suspended contributions.

Consider a worker who earned 120K in 2007 and paid $50 a month for a family medical insurance package through his job. The 120K was split in the following ways:
$107,000 wages. 25% tax bracket on the last portion of that. Income over $97,500 was not subject to the 6.2% employee share of SS tax.
$4,000 401K match by company.
$6,000 stock options.
$3,000 pension contribution.
Okay, we can kiss the stock options goodbye. They may be there but are worthless. The pension contribution is gone. The 401K match has been suspended. Family medical insurance package (with higher deductibles and copays) now costs $100 monthly.

Let's say that nominal wages of this worker have been increased to $112,000 in 2009, which is better than many have experienced. The employee's share of FICA tax has increased from 97,500 * 0.062 ($6,045) to 106,800 X 0.062 ($6,621.6). Because the employee's nominal wages have risen, federal income tax at 25% has risen $1,250. State income tax will have risen as well. The extra cost of the insurance (which is taxed) has risen $600 and comes straight out of take-home pay. So this worker may have nominal wages rising according to the Medicare tax formula ($3,103 to $3,248), but this worker's true nominal take home pay has hardly increased in two years, and when you include the benefit cuts, the worker's compensation has dropped more than ten percent. It is not surprising that people are spending a lot less. They have a lot less to spend.

When you include inflation over the two year period, things get even worse (here's a handy historical chart of CPI along with a page with a lot of inflation calculators). When you include the likely effect of diminished investment returns, this employee's true income contracts even more. The 401K match may be gone, so if that employee ever wants to retire, that employee is going to have to ratchet up his or her tax-advantaged retirement contributions! Let us hope that employee does not have high credit card balances. If so, the only real way for that employee to retrieve his or her position is to pay those suckers off - that is by far the highest rate of real return.

So don't expect retail spending to suddenly turn around and get all bubbly and exuberant. It can't. It isn't there.

Comments:
The Republican Congressional leadership has been ignoring the basic reality of what is happening to most people in the economy for years...
In all fairness, any time
anyone
tried to deal with the reality of entitlements, they got destroyed at the polls. The fault, in the end, lies with the public that didn't want to listen and with the news media that is supposed to process such information impartially.
My guess is that a psuedo-third-party will take over the dead husk of the Republican party, although that "brand" may be damaged enough to be worth less than the legal advantages attached to it. Either way, the Republican party as we know it is dead meat. The Republicans don't represent
anyone
anymore, while the Democrats do a good job of representing some very powerful (though perhaps not actually numerous) constituencies.
Post a Comment
<< Home