Visit Freedom's Zone
Donate To Project Valour
Friday, March 12, 2010
Nobody Reads The Reports
That describes so much about our country's problems...

Bloomberg:

Sales at U.S. retailers unexpectedly climbed in February as shoppers braved blizzards to get to the malls, signaling consumers will contribute more to economic growth.

Purchases increased 0.3 percent, the fourth gain in the past five months, Commerce Department figures showed today in Washington. Figures for the prior two months were revised down, taking some of the shine off of today's data. Sales excluding autos rose 0.8 percent, exceeding all estimates.
What a remarkable vision - desperate shoppers climbing over three feet snowdrifts to get to their local mall. Does it have anything to do with reality?

Let's take a look at the Jan-Feb 2010 change as compared to Jan-Feb of 2009. That total (see Table 1B in the release) grew a respectable 3.4%.

Now let's look at the Titanic graph which breaks down that 3.4% (nominal) gain by category:


Start humming "Nearer My God To Thee", because over 60% of the increase was in gasoline sales, which are pretty much flat in real terms.

People spent more at non-store retailers (catalog and online). Possibly that has something to do with all the sales tax hikes.

People spent more at pharmacies, and on groceries. People spent slightly more at auto dealers (+0.9%), which appears to be a real decrease? People did spend more on clothing, etc at general merchandise (+3.2%).

Given that the recession officially started over two years ago, at this point one would be expecting more of a rebound. These numbers are not good - what matters for the future growth of the economy are real increases and a divergence of spending into multiple channels, which tends to create new jobs. Grocery stores increased 2.3%; the food and beverage category (basically food plus alcohol) racked up a 2.1% increase. That is another indicator of tight money.

In general, real retail sales have to increase more than the population before the economy grows. Here we should check in with the last CPI release (January) to get a feel for what that YoY Jan+Feb of 3.4% really means. First, the headline CPI-W 12 month increase for January was 3.3%, so right there contemplation ensues. Apparel was +1.2%. Motor fuel and gasoline + 50% (this will be a bit less in Feb). Food at home dropped 2%, whereas food away from home rose 1.6%. Medical care commodities (includes drugs) rose 3.5%. New vehicles rose 4.0%; used vehicles rose 11.6%.

Overall, we are still going nearly sideways in real retail sales. This does not imply growth.

This is particularly worrisome because according to this week's reports, we are right at the end of the inventory cycle and now most growth has to come from a steady flow of retail sales. These reports include:
Manufacturing and Trade Inventories/Sales:


Manufacturing shipments, inventories and orders. The most significant part of the preliminary were the shipment trends for primary and fabricated metals, which indicate that we have cleared the initial inventory cycle.

Monthly Wholesale Inventories/Sales: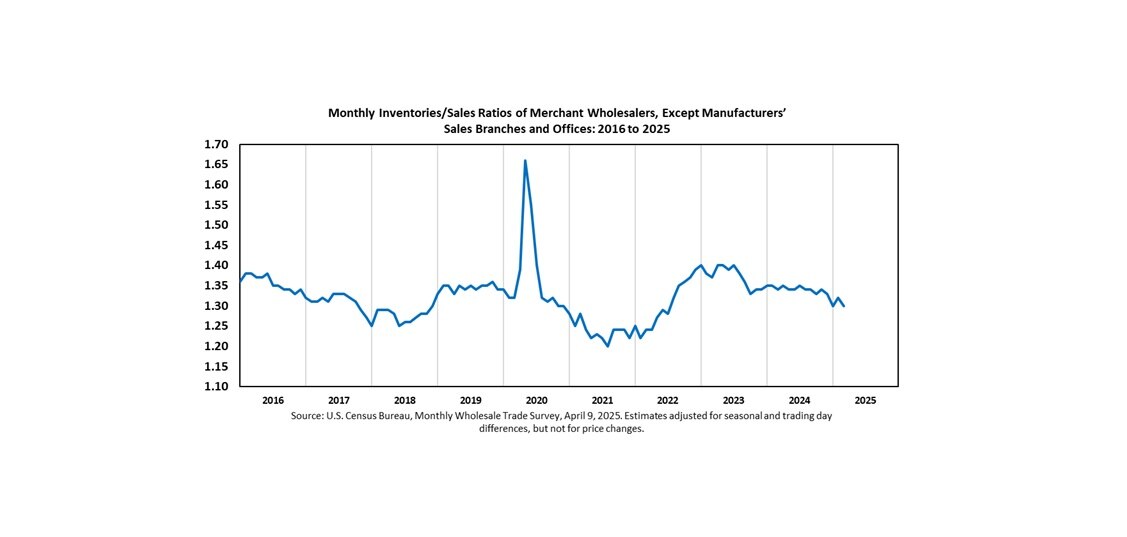 Looking at the detail in this report, the negative YoY January sales numbers for lumber, metals and machinery leaped out.

One can look at the graphs above and just see that we have cleared inventory. If retail sales were rising, growth would increase. If retail sales are flat, growth will be flat. So we'd better hope that March's retail report is a bit more vivacious!

PS: Please see also two excellent CR posts covering the same themes, with nice graphs and probably clearer explanations.

Comments:
John - I think that's why I stopped reading either quite some time ago.
IMO economics is a science, but it is always a science with a lot of unknowns, and very often a science with a majority of unknowns. Approached with that in mind, one can generate useful results as long one is willing to say "I don't know" a lot. Without the willingness to acknowledge that one is a fool who knows nothing on a fairly frequent basis, I think one is likely to do more harm than good.
I think that individual and national ideologies should guide proposals about how to cope with reality, but that the process of determining (or, in economics, estimating) reality must be ideologically neutral. So when you get your ideology into it, you get your sensor readings all messed up.
One of my brothers sent me a Kudlow article from last year that really makes Krugman look great. I was never able to figure out what the article was about really - it made that little sense except that he wanted to complain about Obama. But the conclusion was that US citizens ought to be able to spend and save as much as they liked.
How that works in reality I do not know. I have rarely met anyone who is both spending all they liked and saving all they liked. Personally I would like to save 500% of my current income and spend 600% of it. Perhaps that is where the urge to insanely borrow comes in....
If you look at both sides of the ideological spectrum, they both now seem to be advocating policies that would drive our national borrowing up massively. Most of the difference is how they want to spend it - both want to BORROW it.
But neither ideological wing appears to be able to come to grips with the ugly reality that we are reaching our limits of borrowing, so advocating borrowing much more in the near future is likely to destroy THEIR OWN FUTURE PROSPECTS. They are advocating self-defeat of THEIR OWN AGENDA in a decade or at most fifteen years.
That is where the broader public must step in.
Post a Comment
Links to this post:
<< Home