Visit Freedom's Zone
Donate To Project Valour
Thursday, January 13, 2011
An Awful Post
This, folks, is the post I never wanted to write. This is the post that makes me want to quit blogging.

Expletive, expletive, expletive. I am sorry, but here are the numbers:

A) Medicare wage tax for December.

2009

:
Wages: 17,018


Self: 165





2010

:
Wages: 16,788 (-1.35%)


Self: 170



Not only did the YoY decline again, but it is worse than November's decline (about 1.2%). This means that total wages and salaries paid is still declining compared to a year ago and the gap kept widening. The second ironclad conclusion is that the real decline is larger. Above you see only the nominal decline. And lastly, I must remind you that Social Security recipients had no increase again this year, so their real incomes are declining, except for those few who have money in stuff like stocks.

I got back from the hospital (routine appointment for the Chief) about 10:45 and therefore got a late start on the day's news. After the bad Treasury figures, I gulped, reminded myself that at least the pace of initial claims had dropped, and marched my disconsolate butt over to the Dept of Labor's website.

And that is when things truly got ominous, because....

In late December 2009 initial claims were reported much lower than they really were. Later the DOL folks revised the figures, and it is the revised figures everyone has been working off.

But if you look at the original releases for a true YoY comparison:

Dec 26, 2009

Advance:




SA: 432,000




NSA: 557,155


Jan 2, 2010

Advance:




SA: 434,000




NSA: 645,571


Jan 9, 2010

Advance:




SA: 444,000




NSA: 801,086



Now this year's sequence:

Dec 25,2010

Advance:




SA: 388,000




NSA: 521,834


Jan 1, 2011

Advance:




SA: 409,000




NSA: 577,279


Jan 8, 2011

Advance:




SA: 445,000




NSA: 770,413
An unpleasant trajectory is evident. It's also evident from comparing recent household survey numbers to the initial claims numbers that fewer job losers are filing for initial claims because apparently more of them are in the temp/contract categories who do not qualify for unemployment.

DOL released a statement attributing some of the jump to special factors, such as a delay in initial claims processing. This is true, but the same appeared for last year which is why DOL went back and revised the numbers quite significantly.

It's not a strong trajectory at the moment. Maybe by the end of January the flukiness will straighten out and we'll find that the YoY comparisons look better. Maybe not. Right now it does not appear that the January employment report is going to be all that encouraging.

Tomorrow there is a plethora of nuts and bolts releases. December retail sales, the CPI, Industrial Production and Business Inventories will clarify. Right now it appears that production companies are in something of a squeeze - they are paying higher materials costs but don't want or are not able to pass all those costs along to the end-buyer. This may be affecting employment.

I find the current round of reports puzzling. Freight was pretty good in December, and the economy should be generating more jobs than it is.

PS: Regarding the nominal vs real income thang:
Fortunately, gas prices at current levels caused absolutely no harm to the economy in 2007: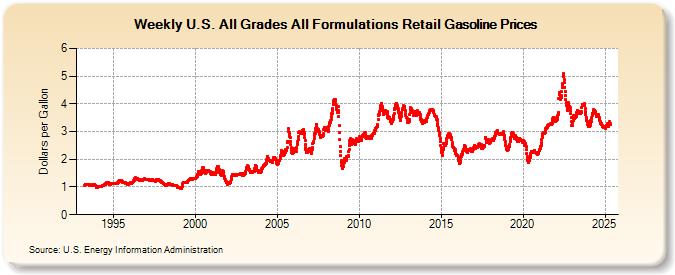 Nor did diesel prices cause any problem back then. I'm sure the last few weeks can have no negative implications whatsoever: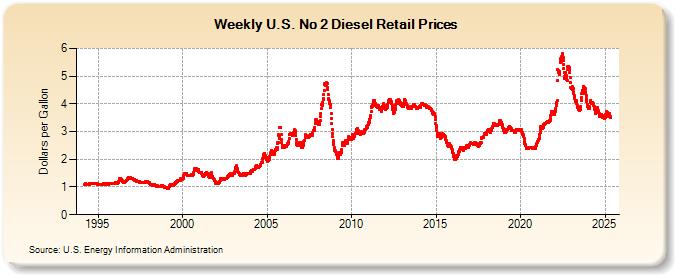 And food prices at 2008 levels caused nothing but a few measly riots back then in Countries That Do Not Count, so I'm sure we need not be concerned now. That is, unless you are an unemployed person who has lost or is about to lose unemployment benefits. Those food stamps won't be going as far, will they?

And I'm sure that stocks are a great value now, because gee, the indexes are still way below their previous peaks (look at the five year) and even Mark has to agree that there are great, great values out there. Personally I get nervous when I look at stock indexes and the little Walmart smiley face thingie starts bouncing up and down. It's looking like another sell season later this year. There's some space left for the nonce. The Fed is not taking their foot off the gas pedal until we pry their cold, dead feet from the floor of the Tin Lizzie or Congress wakes up and gets real, which clearly is not happening this year.

(That sentence should get me another of those FBI site visits.)



One of the beyootiful things about high finance

(the type you get when everyone involved is high)

is that when the Fed opens the floodgate, stocks WILL go up. For a while. It's particularly amusing to watch the prices go up as sales and profits decrease. The recession started between the 2nd and 3rd quarter of 2007, when tax receipts started their epic fall. And that is when stocks reached their peak.

A good site to track trucking stuff is here. It's not just tonnage. It's also capacity, etc. EIA petroleum total demand is always worth a look. It runs a few months behind. This is really product supplied, but if you average a few months you get the overall demand figure. AAR is the site for rail. It is also a very slow-loading site, so early in the morning or late at night.



Comments:
If a period has huge adjustments, I mark it on a calendar along with other exceptional circumstances like catastrophes, and then I modify the comparisons, or wait until a truly comparable period arrives. Error bars are important, and every time series will run into periods that are not truly reflective.
I don't know how to do it otherwise. Comparing the raw data helps to compensate a bit, but the reality is that we won't really know until the end of January.
We're still seeing some base-level improvement, but the correlation with the employment reports is weakening.
In February, Medicare wage receipts won't be valid because there was a large snow effect.
My jaw just dropped on those wage receipts. I expected to see a YoY drop, but on the order of three quarters of a percentage point. Not this.
Post a Comment
Links to this post:
<< Home