Visit Freedom's Zone
Donate To Project Valour
Friday, July 08, 2011
What's Happening In A Nutshell
We all know about the recent high inflation centered in the unavoidable expenditures of life. Maybe the hedonics of the iPad are favorable, but can you afford to drive to work to earn the money to buy the iPad? An increasing number of people who ARE working are finding it hard to cover their basic expenditures.

By May, consumers were so strapped that they had to cut back spending. We saw this in a very poor retail sales report, in which spending at grocery stores actually dropped and spending at pharmacies was almost flat. Today we got May's consumer credit report. The CW on this is that increasing revolving balances are a sign of consumer confidence. Not so. They are a sign of consumers not being able to pay for their monthly basic needs out of their paychecks. This is rather clear when you look at the non-revolving credit and at May retail sales.

Now, put yourself in the position of one of those consumers who finds herself unable to pay the utility bill (May is just about the average yearly low), gas charged on the credit card, and food charged on the credit card. You abruptly cut back on your spending, don't you? Because with half a year gone, you are strapped already, every time you go in the stores the prices are rising, and you are rather worried about covering your bills for the rest of the year, much less paying for Thanksgiving dinner, heating your home, and covering holiday gifts.

So you pull back, and we see that is just what happened when we look at bank deposits:


This graph is of seasonally adjusted Other Deposits from the H.8 release through June 29th.

This graph is predicting very bad summer retail sales, because it shows an abrupt change in the behavior of consumers and businesses.



We also should check consumer revolving credit at banks to see how consumers are doing:



Well, the curve isn't bending back, and this means that our sorrow will continue.

It also means that banks have to escalate their monitoring on CC risk - under these circumstances, if you let borrowers jack up their credit balances too much, you will face increasing defaults down the road.


As I look at this, I see that our situation has not eased and that instead we are just entering into the worst of it. Food prices and prices for everything are going up. Over the year, May CPI-W was up 4.1% and CPI-U was 3.6%. But the traveling pace of inflation over a few months was much higher, with the CPI-U quarterly inflation rate at 4.6% and the six-month inflation rate at 5.1%. For lower income households, those two rates are higher. CPI-U is the overall consumer inflation rate - CPI-W is for lower income workers, and it is running substantially above CPI-U. These households can't afford the hedonics. Also rural inflation is much higher, and rural CPI-W inflation is over 5% in many places. Look at the regional and urban/suburban/non-metro splits here.

So, now we have a situation at which small business revenues are mostly threatened, and large service business revenues are in trouble too, so service businesses have to raise prices to cover the increase in their basic costs, but will inevitably see dropping revenues as a result!

And then we are slowly losing jobs, which will not help real incomes. Oil prices are sharply up, and gas costs will increase again. The transmission of price increases through to the end-user is not nearly complete. We could see inflation over 6% if we get unlucky, because the Fed is cowering in its ivory tower and is too afraid to intervene.

Last, but not least, is that we are going to see the inevitable build of inventories at wholesalers with the inevitable result of declining orders. The first hints of that process are seen in May's report: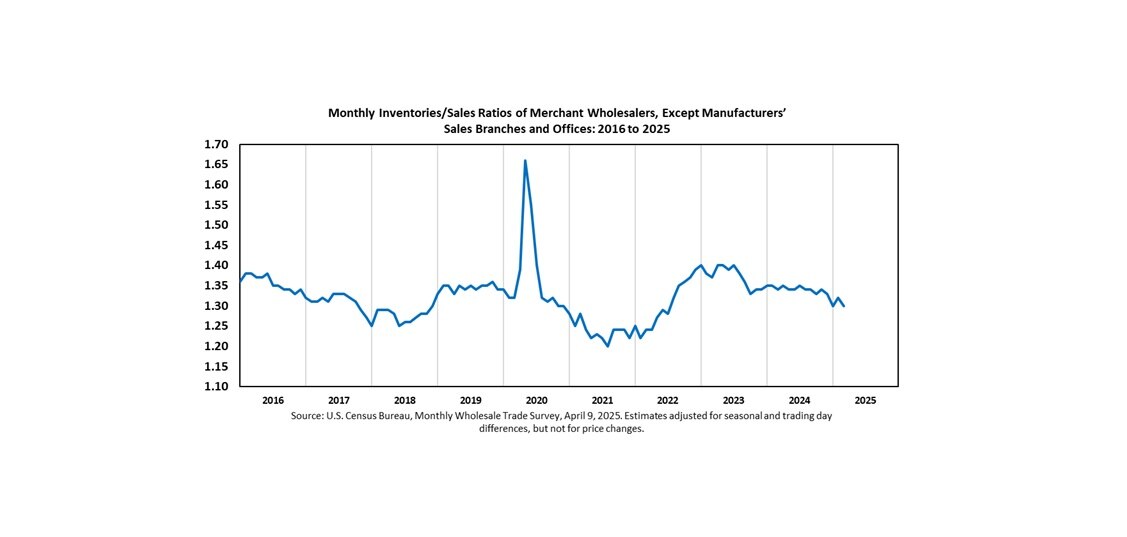 This downturn began in April, but will probably be dated by NBER as starting in May or June. It is acute, but it will not be as deep as the previous downturn because less spending from credit is involved.

The only possible fix for this is to knock money out of the system to redress the pricing imbalance, which means the Fed should start raising interest rates. It won't, so don't expect anything to change very quickly.

The shape of this one will look more similar to older recession patterns - there will be a sharp build in inventory, a relatively steep decline in jobs, a bunch of small businesses will just shut down, prices will collapse, and then inventory will clear as production slows deeply and there will be a sharper relative emergence out of it.

But the problem is that this one is coming at a time when all the money has been blown on Keynesian policies already, so the relative contribution from countermeasures will be very minimal.

Comments:
So to sum up our situation: We've got a credit recession, being dragged out into a depression via bad monetary, fiscal and policy decisions, and in the middle of that we're going to have an inventory recession. You might have to start including maps with your posts so we don't get lost.
"It is acute, but it will not be as deep as the previous downturn because less spending from credit is involved."
But the credit recession hasn't been allowed to run its course yet. It's hard to know when that is going to happen, and when it does it will be large. Maybe this inventory recession (combined with our debt problems) will be the trigger. (Though if the debt ceiling gets lifted I'm expecting truly *massive* rates of QE whether they call it that or not as the Treasury issues boat-loads of new debt and the fed feels it has to buy it up to keep rates low.)
"Here's what's happening in a nutcase."
Mark, while I appreciate the play on words, you're only advancing the nutcase's true cause (making money prostituting himself) by giving him more page hits.
"CW" = "Conventional Wisdom" (took me a while to figure that out even with the help of http://www.acronymfinder.com/CW.html)
Post a Comment
Links to this post:
<< Home