Visit Freedom's Zone
Donate To Project Valour
Tuesday, August 10, 2010
Uh-Oh, Three Month Decline After April
Update 8/12:

The first horseman of the second apocalypse has been sighted

. Last week's initial claims were revised up to 482,000, and this week's advance initial claims is reported as 484,000. We have never made a more stupid mistake than in not extending some form of unemployment benefits for those who have recently lost their jobs in high-unemployment areas. (The unemployment extension is still just for those who lost their jobs a while ago.) I realize that initial unemployment claims are confusing to many, but the bottom line here is that this week's non-seasonally adjusted initial claims are 420,997, and last year's claims for the comparable period were 482,590. At that time we were still losing jobs pretty rapidly. If continued, claims at this pace are entirely consistent with a new contraction. If I had the time, I would update the 1980/1981 graph for you - we seem to be moving toward 1981. This week's four-week moving average is 473,500. I do not know of anything in the works that should distort initial claims this much.

End update

.

Wholesale Sales/Inventory ratios show signs of trouble: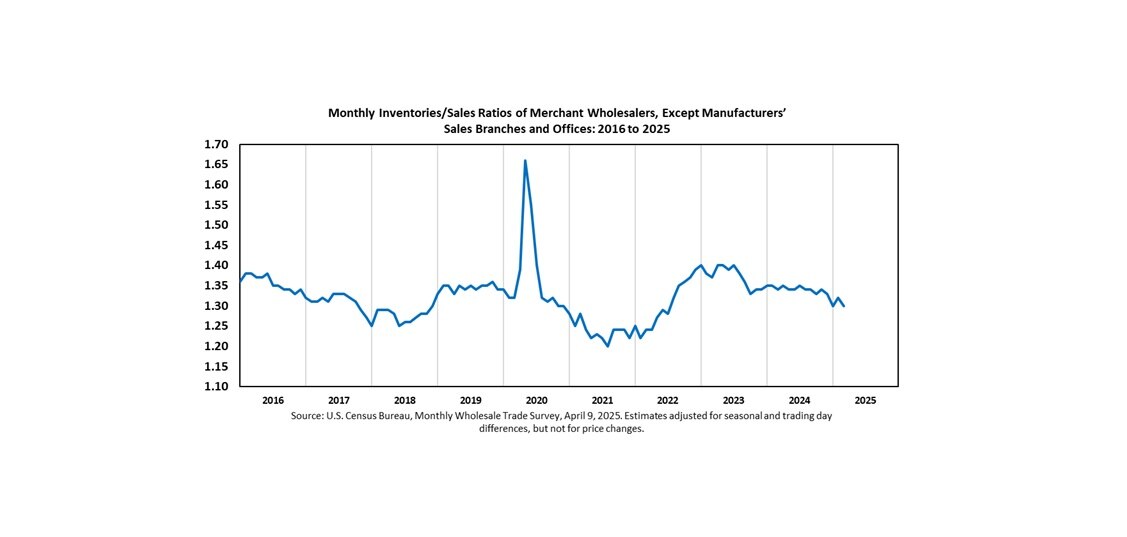 This only goes through June, but the inventories rose 0.5 > 0.1 for the last two months, and sales dropped -0.5 > -0.7 for the last two months. In May durable sales rose 0.5 and in June they dropped -.02. And that doesn't seem so bad, except nondurable sales dropped -1.4 > -1.1 for May and June. So final demand is declining and orders will keep following.

NACM (National Association of Credit Managers, covers business-to-business credit) was released last week. The manufacturing index looked bad, although services rose a bit. But this index has shown an increasing pattern of month-to-month declines for three months. Take a look at their July report, and don't neglect the commentary.

Note that there is a stunning correlation across a wide variety of reports showing that April WAS the peak for the near-term. The only question now is how far down we will go? As of August, we are still in an improving economy, although the real pace of improvement has fallen hard, and price indexes (as measured by M_O_M) for consumer goods show that free cash in consumers' hands is due to be swallowed up more and more by the basics.

NFIB's July Small Business survey was pretty negative. Current factors are okay, but expectations are dropping rapidly. The small business outlook has fallen from 8 in May to -15 in July.

Why am I so sure that we are still growing? Well, if you look at NACM you see that credit sales are still in the pretty positive range, and the Fed's Commercial Paper (look at blue line for non-financials) is somewhat encouraging as well:


I say "somewhat" encouraging because look what it did in 2007. I prefer to see a slow steady increase rather than the pop up of recent months. You can argue this either way, because for many companies, the commercial paper market is delivering by far the lowest financing costs. So if companies are covering short-range financing needs on this market, and will get the money back to cover by profit on sales of products for which they are ramping up production (look at Chicago PMI), then everything's A-okay.

BUT, if companies find themselves squeezed by slightly lower sales and a slow-down in orders and then there is enough agita over this to raise commercial paper rates, then the weaker borrowers on this market might find themselves hit by something of a rate shock with revenues trending slower, base costs of production rising, and rates rising. So I will be watching this with some attention, because fundamental costs of production are going up as are crude product costs, but the sales trend looks iffy.

If you look at Commercial Paper Outstandings for Nonfinancial domestic, seasonally adjusted, you'll see that we may be nearing problem territory. And if you want to look at volume stats for AA Nonfinancial, you'll see that we are ballooning up at the short end (1-4 days), although in August so far we at least moved some to 10-20. So they are going for the low, low, low rates. A2/P2 Nonfinancial issues and volumes are dropping overall, although what there is out there is stuck in the 1-4 day.

The other side of the coin is H.8 Assets and Liabilities of Commercial Banks. Other deposits, which is basically your spendable cash for smaller businesses and consumers, is still rising but at a lower pace - 5.3% for June. So far for July the pace is picking up as it seems to be for large time deposits (Jumbos). The huge draw-down in large time deposits evaporated last month, so indeed that was mostly driven by the tax credit for housing. When the tax credit evaporated, so did that draw-down. And there should also have been a draw down in other deposits, so we will have to wait for a month or two to see what's really flying. One of the things I am wondering about is that when there was probably a partial shift from large time deposits to other deposits; I strongly suspect that in many cases parents pulled money out of CDs to give to kids for a hefty home downpayment.

Anyway, clearly the downturn risks are rising quite rapidly. I see no possibility that the economy can sustain growth in 2011 if all the Bush tax cuts expire, and the probability is very high that any significant tax increase could tip it back.

Q2 GDP should be revised down.

Comments:
M_O_M, do you mean not much demand for money, or not much demand for credit? Savings rate seems to be going up pretty steadily, although I have to admit that MZM has actually declined of late (!!!). Not sure how to interpret that. Still, I would expect a continued increase in the demand for savings instruments and conservative investments.
Post a Comment
Links to this post:
<< Home